About Gert Reypens Team
Gert Reypens Team is an internationally respected estate agency in the Costa Blanca, based in La Mata – Torrevieja, with a passionate team of personal property advisors.
We are part of the Keller Williams Group, number 1 worldwide in the real estate business. In Spain Keller Williams has over 10 market centers with over 500 colleagues. We cover the whole mainland of Spain and also the Canaric Islands and the Balearic Islands. So we can help our international clients to buy and sell a property in Spain.
Our priority is to provide you as a buyer or seller with a service of an incomparable level. Having an experienced and competent advisor to assist you throughout the entire process is very important to realise your wishes and protect your interests. Gert Reypens Team is your personal advisor and on-site expert to guide and assist you before, during and even after the search and purchase of a property in Spain.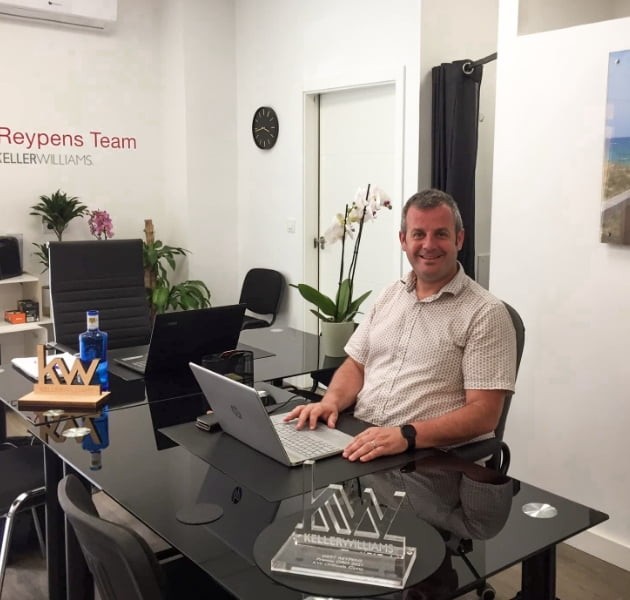 We guarantee service of the very highest standard with our experienced and talented advisors going to great lengths for every client. Our team works around the clock to satisfy even the most demanding clients' needs. We advise and support you every step of the way to perfection, happiness, memories and satisfaction. When it comes to the ideal home, it's not just about the property. Our professional advisors strive for perfection and are in constant contact with you to fully understand your needs and wishes and respond with satisfaction. At Gert Reypens Team, you are guaranteed honest, reliable and transparent advice throughout the entire process, and beyond.
Our online offer is carefully selected and mainly focused on the Costa Blanca and Costa Cálida. However, our actual offer is much larger and we work together with the colleagues of the other Keller Williams offices in Spain, Europe and the other continents. We will search for the perfect property for you. Your advisor will assist you throughout the whole process of purchase or sale.

Gert Reypens Team cooperates with local lawyers, property developers, service providers, building owners, etc, in order to always provide you with optimal assistance and support from A to Z in your own language.
Our advisers go to great lengths to meet all your needs and requirements, so that you don't have to worry about anything and can feel completely at home from day one. Our goal is to work with you to find the perfect home and make sure you can enjoy it right away, without any unexpected surprises. We support you in the search, purchase, immigration, furnishing, importing cars, taxes, etc.
The team
Gert Reypens
Operating manager
Gert is the founder and manager of Gert Reypens Team. After years of experience in the field of Human Resources he moved to Spain. Real estate and helping clients to fullfill their Spanish dream are his passions. Gert takes the time for you als a client and listens to your needs and whishes. This successful approach has been proven by the numerous awards Gert has received within the Keller Williams group. In recent years, he consistently achieved the top 10 most successful real estate agents within the Keller Williams Spain group.
Gert communicates open and he is your guide throughout the entire buying or selling process. He is honest, down to earth and thinks in possibilities in stead of problems.
As a team manager Gert coaches the members of Gert Reypens Team to fullfill their goals.
Read more
Sergio Fominski
Real estate advisor
Sergio has lived in the south of Alicante province for more than 20 years, hence he knows the area well. At one point he worked in the sales department for one of the big local developers, later, a few years ago, Sergio was involved in holiday rentals. In 2018, aiming to professionalise, Sergio completed the required studies towards the official estate agent certification in Barcelona. Sergio loves working with people and he believes in helping them by creating all the right conditions for them to make an informed choice. This is his idea of the ultimate goal of every estate agent.
Read more
Kurt Geudens
Real estate advisor
After nearly 20 years of activity as an account manager in banking, and 10 years working as an independent fuel trader, Kurt proves daily as a real estate agent on the Costa Blanca that open, transparent communication with potential buyers, property developers and homeowners pays off.
Creating a win-win situation and a long-term relationship is therefore his motto.  Kurt may therefore still help many clients from his former career with their search.
With his, by now, 3 years of experience with the Keller Williams group, knowledge of the region and his local network, Kurt succeeds in making the Spanish dream come true for his clients.
As a matter of course, you can expect a full and comprehensive service, which starts with the discussion of the buyer's wishes, search, assistance with lawyer and notary, until well after completion or handing over of the keys.
And if you dream of building a padel career in Spain, Kurt is also your man :-)
Read more
Kevin Florizoone
Real estate advisor
Kevin has had a managerial position in social security in Belgium for more than 20 years, but is above all passionate about Spain: the beautiful weather, the gastronomy, the hospitality of the locals..., but also the beautiful houses in various styles that can be found all over the country. He is happy to help you in your search for the realisation of your Spanish dream. Because of his professional background, he highly values customer-friendliness. That is why he will always help and guide potential buyers from A to Z. He also strives for a strong collaboration with the project developers.  In addition, Kevin is also an avid golfer who has enjoyed discovering many courses in the Costa Blanca region. He is therefore the ideal person to guide you in your search for a property with a view of the golf course.
Read more
Ingrid Braem
Real estate advisor
Ingrid has gained extensive experience as a sales and administrative assistant in the construction, marketing and real estate sector. As a real estate consultant within the Gert Reypens Team by Keller Williams, Ingrid has been given the opportunity to turn her passion into her profession.
Her mission is to unburden and guide you, the client, in the realisation of your Spanish real estate plans. She looks forward to helping and advising you in finding your dream home, contributing to your story on the Costa Blanca. 
It is her priority to realise your real estate wishes and protect your interests.
Besides her passion for real estate, Ingrid loves spending fine moments together with friends and enjoying all the beauty the Costa Blanca has to offer.
Read more
Raphaël Fierens
Real estate consultant
Raphael has accumulated extensive experience as an independent retailer. He therefore knows what it takes to make sure his customers are satisfied. Whether it is a small purchase or a major investment such as the purchase of a property in Spain, you can always count on Raphaël. He is excited to also apply his acquired expertise in customer guidance in his position as a property consultant in Spain. Raphaël is ready to help and guide you in the purchase of your dream property in Spain. He will be your guide throughout the search and purchase process and will always start from your needs and wishes. You can count on a personal approach where honesty and targeted advice are key. When Raphaël notices that you as a customer are satisfied with the purchase of your property in Spain, it gives him great satisfaction. Raphaël is ready to help you realise your Spanish property plans together.
Read more